What is Consistency? Why do we need it?
In Last episode – Click here
we discussed that matching challenges and skills is key to success. There was one more thing that makes it a perfect recipe for success.
Consistency is habit of persue thing, things which are important, yet boring and difficult.
Story of Turtle & Hare- A Classic moral story signifies the importance of slow and steady wins the race. If you have not heard this story- read here
Think about perspective of both Turtle & Hare
The mindset of Hare- He started with overconfidence. But He felt Lazy and overestimated his skills. He fell into trap of inconsistency and failed
MindSet of Turtle- He might be nervous about his slow pace. but He kept on walking and demonstrated consistency.
Do talented people need consistency in work?
Traditional Indian Dictum-
करत-करत अभ्यास के, जड़मति होत सुजान।
रसरी आवत जात तें, सिल पर परत निसान।।
When one keeps practicing, A foolish person can become wise. A rope can leave a deep mark on a stone if it keeps on rubbing on it. In this age of information, acquiring skills is a cakewalk with a slight application of mind. What makes a difference is a consistency and constant effort for excellence.
It is so significant to our daily lives. Even unskilled, unpassionate people will beat a talented and naturally endowed a person. See this image.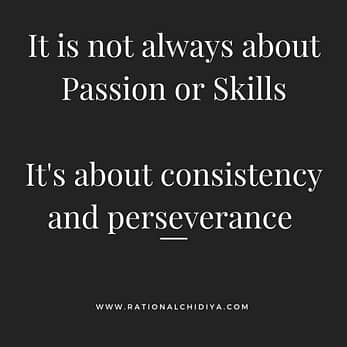 Consistency can't be ignored anymore. Everybody knows it but fails to acknowledge and include it in daily regime It is painful as it requires repetition of the same boring activities. We discussed this in episode Effortless Flow – Click Here
A Secret and Most Effective Tip to bring consistency is waiting for you in next episode, dont forget to listen next episode.
Credits
Music from Uppbeat (free for Creators!)
httpsuppbeat.iotyeti-musicturn-away
License code DRKBIXCAKWWRZ8ZT

https://uppbeat.io/t/mood-maze/trendsetter
License code: LMY5BWXCBQ3IHBAW